Exclusive dedication to maxillofacial surgery, implantology and oral rehabilitation in an interdisciplinary way, with the participation of various specialists led by Dr. Joan Birbe, Diplomate by the American Board of Oral and Maxillofacial Surgery.
If you come in person, in the following infographic we explain how to prepare for it:
Approximate duration: 60 minutes.

Minors must be accompanied.

Our goal is that you feel safe "at home".

First Visit Cost: € 50.

The cost of taking records, CT and X-rays will be reported if necessary.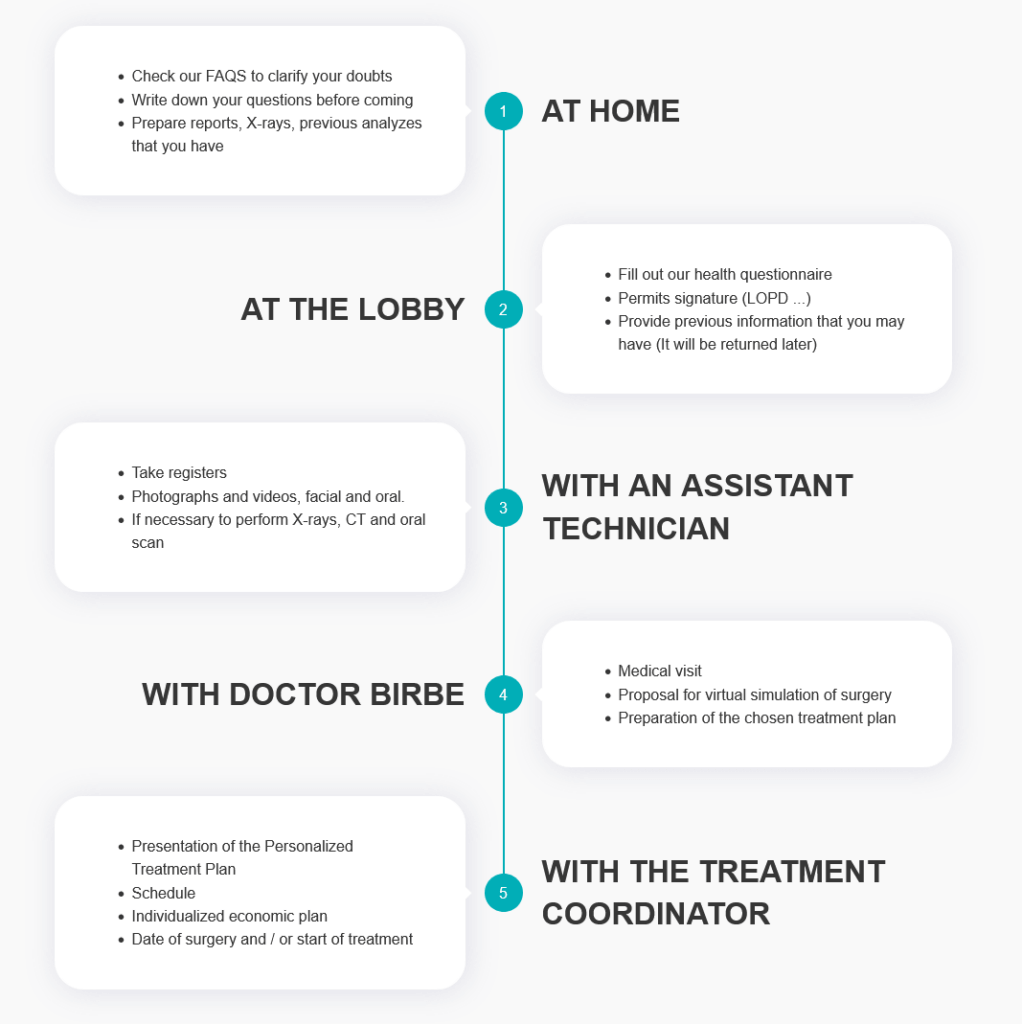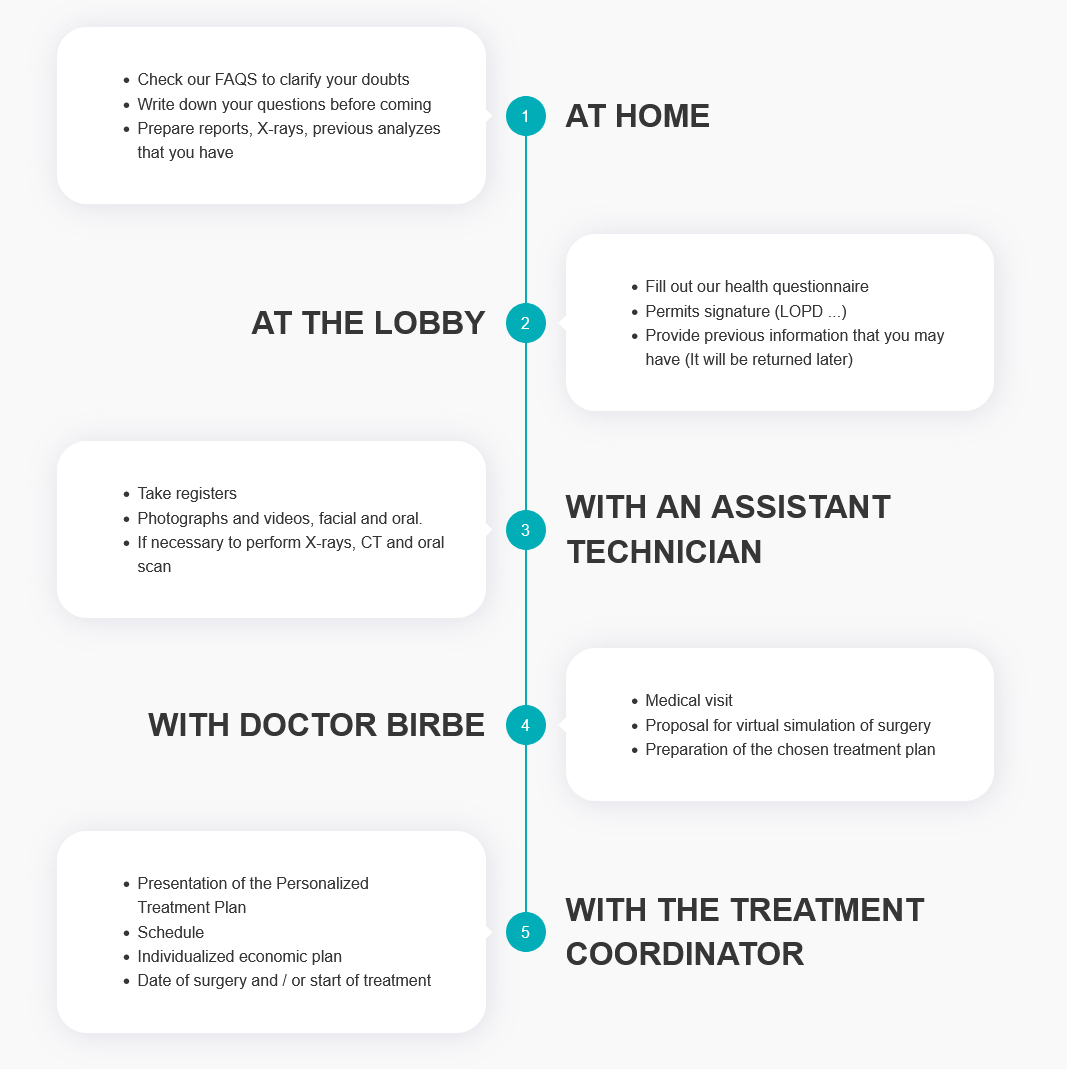 If you prefer to make your first remote visit with a videoconference, we will tell you how we do it:
Approximate duration: 30 minutes.
First Visit Cost: Free.
Si vienes presencialmente en la siguiente infografía te explicamos como prepararte para ella: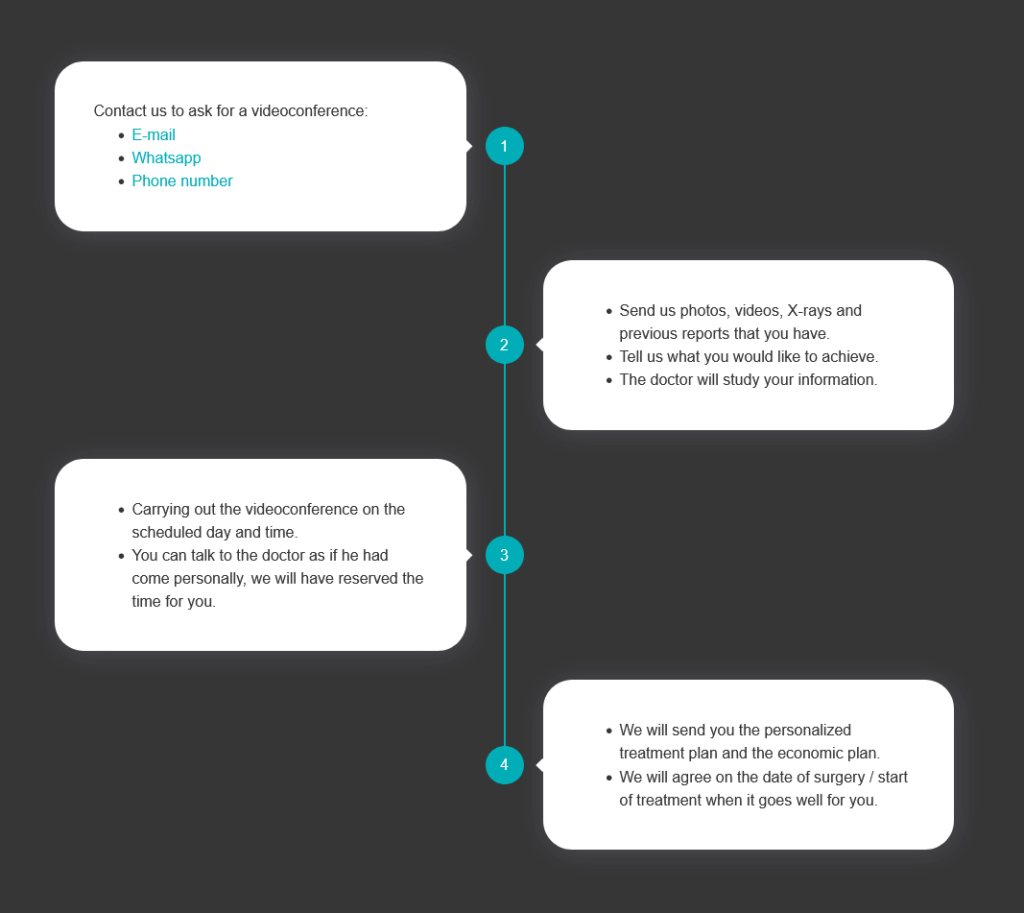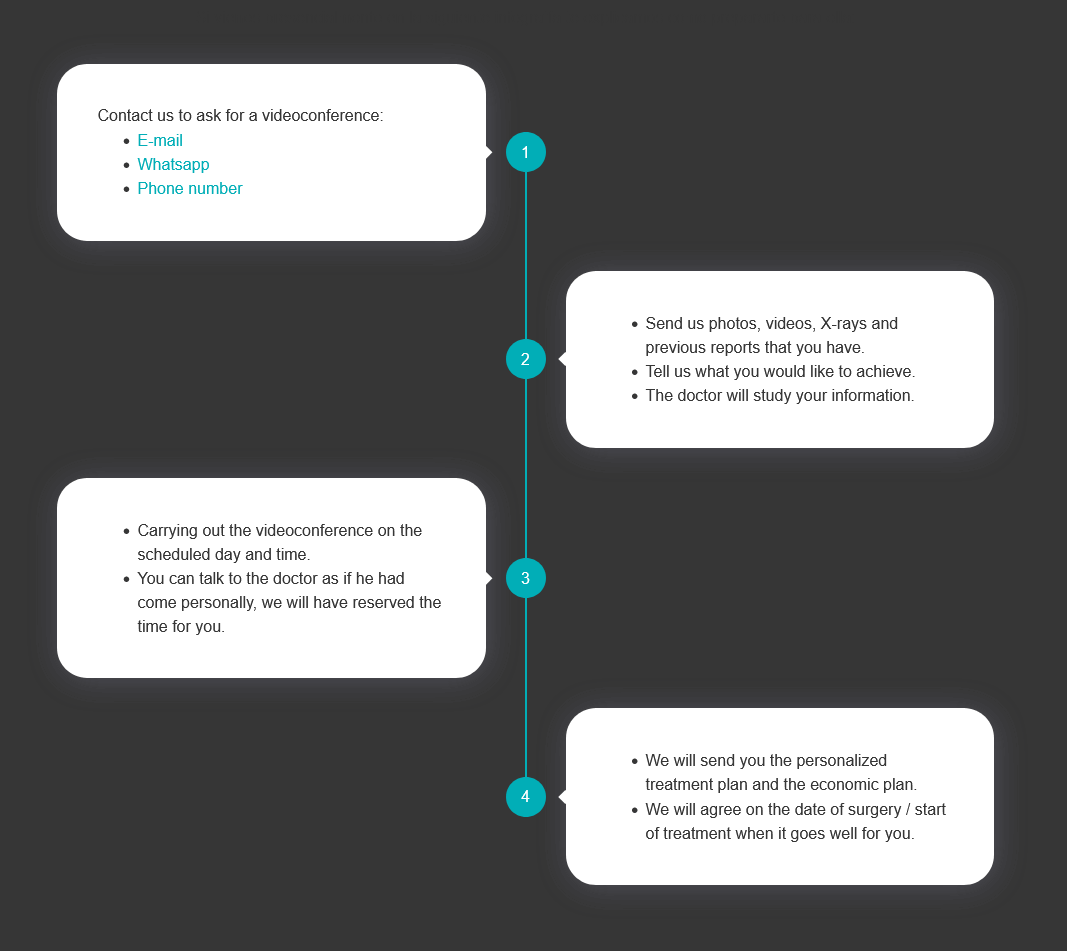 What comforts and facilities do we assure you?
Two comfortable waiting rooms to preserve your privacy to the maximum.

You will have the personal telephone number of Dr. Birbe to solve any questions prior to the treatment and have maximum peace of mind during your recovery.

If you wish, before your first visit we can coordinate a first videoconference with Dr. Birbe

Our treatment coordinator will ensure that you have the maximum facilities at all times, just let us know how we can help you.

Parking next to Birbe Clinic.

More information about our facilities
Our priority is to achieve excellence in treatment. All this with a personalized, honest and trustworthy treatment. In addition, our facilities offer maximum hygiene, sterilization and comfort.
Find out what they think of us!
«I am absolutely satisfied, and the process has not finished yet but I am totally… with how fast it has been, because of how effective it is and because when things have to be done they are done well and they are done directly, you don't have to think about the process, you have I have to think about the result, I am super satisfied with how everything has gone.»
Jordi
Orthognathic Surgery
«I had implants that didn't work well for me and I discovered the Birbe Clinic [...] Dr. Birbe helped me with a zygomatic implant prosthesis, and since then I have been super happy.»
Maria
Zygomatic Implants
«I had an orthognathic operation, an open bite, and… quite well, the postoperative very well, no bruises or anything. Now I can smile and very very very happy.»
Eva
Open Bite
Contact us during our business hours of:
Monday, Thursday and Friday from 8.00h to 16.00h.

Tuesday and Wednesday from 8.00h to 18.00h.

Phone Number: +34 93 212 47 37.
Outside of our business hours you can send us a WhatsApp or a form and we will answer you as soon as possible. Being located in Barcelona, ​​we receive patients from all over the national and international territory.
During your first consultation we will provide you with:
✔ Personal diagnosis by oral and facial examination.
✔ Closed estimate with different financing possibilities.