What is Orthognathic Surgery?
Orthognathic surgery corrects the size and position of the facial bones according to the teeth (upper jaw and jaw) in order to achieve a correct relationship between them.


This implies three fundamental things:
Achieving a

correct dental occlusion

.

Correcting facial disproportions

such as long or short, narrow or broad face, gummy smile or retrusive profile.

Functionally, it allows better breathing, by increasing the diameter of the airway. It is the only surgery that can cure

Obstructive Sleep Apnea

.
What types of orthognathic surgery exist?
Depending on the bones that we treat in surgery, upper jaw, jaw or chin, we will talk about:
In mono-maxillary surgery we only mobilize either the upper jaw or the mandible. This implies that we assume a correct position of the maxilla that we do not operate, and that the movement to be carried out is adequate to be corrected with the mobilization of a single maxilla. Facially the changes it produces are less than in bimaxillary surgery.
When the palate is narrow and causes a crossbite, we can segment the upper jaw to widen it. We speak of it as a segmented maxillary surgery. It can be both in the context of monomaxillary and bimaxillary surgery
In a bimaxillary surgery we mobilize both the upper jaw and the mandible. It implies that we have the freedom to decide the ideal position of the upper jaw and "match" the mandible with this ideal position of the upper jaw. It also allows not only linear movements (forward or backward, up or down) but also rotational movements (maxillo-mandibular clockwise or anticlockwise rotation).
This surgery, also called orthofacial, normalizes the proportions of the face while achieving a good chewing and respiratory function.
Surgery is performed by moving the upper jaw, cheekbones and jaw-chin, always through the mouth, without any scar on the face. When a person exhibits facial disharmony, Dr. Birbe first analyzes the face and the patient's smile and occlusion. He then outlines the most appropriate surgical plan for his needs.
What treatments do we carry out?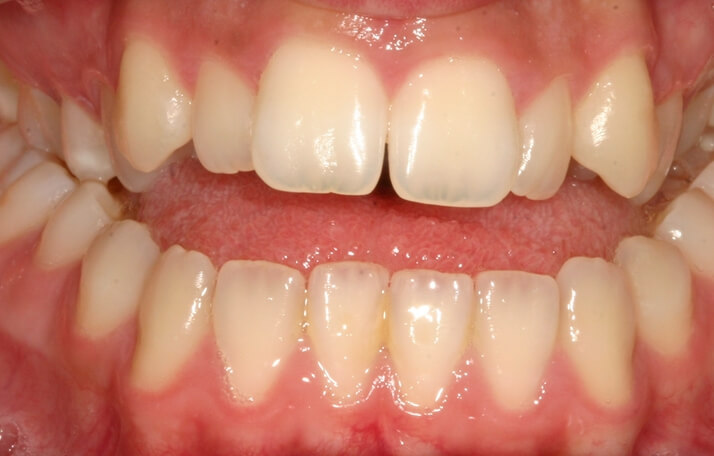 In order to chew and bite, the mouth must be able to close. The upper teeth should contact the lower ones
Orthognathic Surgery Guide
Here is a guide for anyone who is interested in orthognathic surgery treatment, we want it to help you understand what it is and how you can improve your quality of life and that of the people around you.
Why have an operation at Clinica Birbe?
We are specialists in designing faces and smiles.
At Birbe Clinic we have a great team, mentored by Dr. Joan Birbe, with more than 20 years of experience treating patients; always up to date with news and selecting the innovations that really bring improvements to our treatments. As in the case of virtual simulations of facial surgeries, intraoral scanners, customization of facial prostheses, the use of the microscope, etc.
We help you carry out the intervention you need
After a rigorous evaluation we will offer you a personalized and closed estimate with all the necessary forms of payment and financing, so that you can carry it out.
Contact us during our business hours of:
Monday, Thursday and Friday from 8.00h to 16.00h.

Tuesday and Wednesday from 8.00h to 18.00h.

Phone Number: +34 93 212 47 37.
Outside of our business hours you can send us a WhatsApp or a form and we will answer you as soon as possible. Being located in Barcelona, ​​we receive patients from all over the national and international territory.
During your first consultation we will provide you with:
✔ Personal diagnosis by oral and facial examination.
✔ Closed estimate with different financing possibilities.